Mia Love, a Republican mayor from Utah running against a Democratic incumbent for the U.S. House of Representatives, made quite the breakout appearance with her brief but fiery speech towards the start of the Republican National Convention last week — she's got a strong voice, a compelling story, and a simple message, and I have a feeling we're going to be hearing a good deal more from her in the weeks to come. Last night on Fox News, she had some tough love for President Obama and his White House's entitlement spending-happy policies (click the image to watch):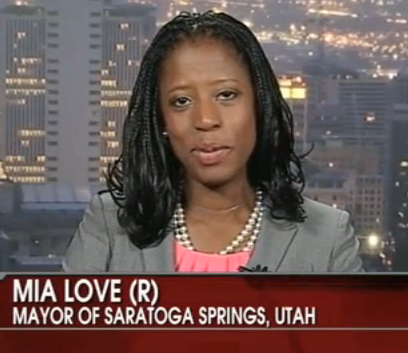 Well it's interesting, because what his policy did was incentivize bad behavior and punish good behavior. Somehow, it's not ok — they removed the incentives for people to actually go out and work — and not lose everything. And what we're doing is we are crippling Americans, and saying 'We're just going to hand you a paycheck and you don't have to do anything about it.' … Well, we spend $900 billion on poverty programs that are supposed to end poverty, but it continues to grow and grow and grow, which tells you it's not working. This president would rather rate his success on how much money he's divvying out than actually rating his success on how many people actually need those programs. … I think he's stripping away the American dream as we know it.
Hey, speaking of divvying out money with the ostensible purpose of ending poverty (rather than — dare I wonder — maybe keeping and even encouraging people to be dependent on government, perhaps?), here are the latest stats on the Food Stamp Presidency, via Bloomberg:
Food-stamp use reached a record 46.7 million people in June, the government said, as Democrats prepare to nominate President Barack Obama for a second term with the economy as a chief issue in the campaign.

Participation was up 0.4 percent from May and 3.3 percent higher than a year earlier and has remained greater than 46 million all year as the unemployment rate stayed higher than 8 percent. New jobless numbers will be released Sept. 7. …

Food-stamp spending, which has more than doubled in four years to a record $75.7 billion in the fiscal year ended Sept. 30, 2011, is the USDA's biggest annual expense.
But by all means, USDA — keep aggressively peddling food stamp participation, 'cause we've totally got money to burn, right?