I feel like a broken record at this point, but I cannot stress enough just how deeply President Obama and his woebegone economic policies are indebted to the shale oil and gas boom that, just a few years ago, nobody even saw coming. It is exquisitely galling to hear Obama administration officials try to assign all of the credit for what meager job and economic growth we have seen to the big-government, big-spending, high regulatory environment they have created, instead of to the innovative technologies that brought about an energy revolution that took place mostly on state and private lands — i.e., completely independent of any federal action.
Currently, the United States and Canada are the only major producers of tight oil in the world (although Russia has lately been making moves to try and get in on the action, ahem), and that spectacular acceleration of production growth now has us sitting pretty at 10 percent of the world's total crude oil production. Via the Energy Information Administration: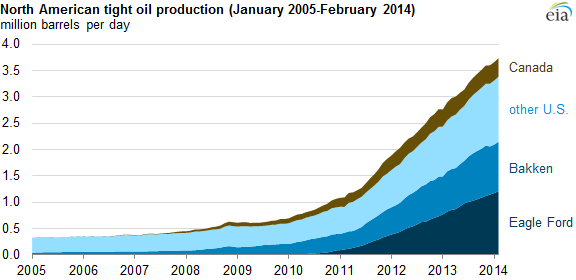 U.S. tight oil production averaged 3.22 million barrels per day (MMbbl/d) in the fourth quarter of 2013, according to U.S. Energy Information Administration estimates. This level was enough to push overall crude oil production in the United States to an average of 7.84 MMbbl/d, more than 10% of total world production, up from 9% in the fourth quarter of 2012. …

In February 2014, 63% of U.S. tight oil production came from two basins: the Eagle Ford in South Texas (1.21 MMbbl/d, or 36% of total U.S. tight oil production), and the Bakken Shale in North Dakota and Montana (0.94 MMbbl/d, or 28% of total U.S. tight oil production). Tight oil production in the United States represents 91% of all North American tight oil production, with the remaining 9% coming from Canada.
And here's a little more encouraging census information about the boom's positive economic effects released on Thursday:
New 2013 census information released Thursday shows that cities are the fastest-growing parts of the United States, and a majority of the metro areas showing that growth are located in or near the oil- and gas-rich fields of the Great Plains and Mountain West.

Neighboring cities Odessa and Midland, Texas, show up as the second and third fastest-growing metro areas in the country. Sara Higgins, the Midland public information officer, has a simple explanation: oil. "They're coming here to work," Higgins said. …

"Mining, quarrying, and oil and gas extraction industries were the most rapidly growing part of our nation's economy over the last several years," Census Bureau Director John H Thompson said.

According to its data, revenue for mining, quarrying, and oil and gas extraction grew 34.2 percent to $555.2 billion from 2007 to 2012. It also was among the fastest growers in employment as the number of employees rose 23.3 percent to 903,641.
Boom.