That's their story and they're stickin' to it, I suppose. During the White House briefing today, Press Secretary Jay Carney affirmed the president's confidence in Gen. Allen and iterated that the White House's first inkling of all this came as a complete surprise after the election. Carney also emphasized the president's eagerness to focus on his current number-one priority, a.k.a. jobs, the economy, and the fiscal cliff (which, I'm sure, is perfectly true — no good lingering on security concerns that bring any more attention to that Benghazi disaster, is it?).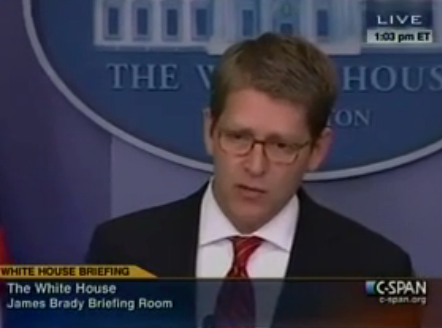 One reporter wondered if the White House mightn't acknowledge that people are thinking that the timing of this whole episode is a little bizarre, but Carney argues that the FBI has mechanisms in place for when to inform the White House and legislative branch about these types of things — which is perfectly plausible, I guess, but this could still be suggestive of an administration on the strugglebus. As Chairman of the House Homeland Security Committee and member of Intelligence Committee Rep. Peter King has wondered, this all looks kinda' odd:
"If [Obama] was told and did nothing about it, that reflects on him," King continued. "If he wasn't told then that reflects on the people who should have told him, the FBI and Attorney General [Eric Holder]. And certainly the White House, if they were told about it they should have told the president, but until then, we have to take the president at his word."

"To me, someone in as key a role as Gen. Petraeus was, once the FBI realized that he was in the scope of their investigation, they had the absolute obligation I believe to tell the president," he continued. "Because Gen. Petraeus was representing the president on so many key matters around the world. In personal talks, negotiations with leaders around the world and being in such a sensitive position where he could've been comprised, the president should've been told."
Anyhow, Congressional hearings on the events in the Benghazi attack are going down later this week. Still no definite word yet on whether Petraeus will or will not be called to testify at some point despite his resignation, but several lawmakers are insisting and it's looking pretty likely that he will have to eventually, via CNN:
Sen. Susan Collins, the ranking Republican on the Homeland Security Committee, joined other lawmakers Tuesdayin expressing concern about how much time had passed before the FBI got word out that former CIA Director David Petraeus was associated with an FBI investigation.

"It's absolutely imperative that General Petraeus come and testify," she said. "He was CIA director at the time of the attack, he visited Libya after the attack, he has a great deal of information that we need in order to understand what went wrong." …

"I am puzzled by much of what has occurred in the FBI investigation and also the latest information that perhaps General Petraeus' friend had access to some classified information," she said.