2:40 – According to NBC's Kelly O'Donnell, Hillary has called Trump to concede:
BREAKING: SOURCE TELLS ME CLINTON HAS CONCEDED ON PHONE WITH TRUMP

— Kelly O'Donnell (@KellyO) November 9, 2016
2:34 – The AP calls the race for Donald Trump. 
BREAKING: Donald Trump is elected president of the United States. pic.twitter.com/yJpgfsAbc6

— The Associated Press (@AP) November 9, 2016
2:29 – John Podesta says Hillary won't concede tonight, but Donald Trump still plans on speaking. Will he claim victory without an official win? I'd doubt it; if no one has called Michigan by the time he hits the stage, he'll just say that things are going great, the media got it all wrong, and he's looking forward to settling everything in the next few hours.
1:46 – I'll be on our live YouTube channel momentarily.
1:39 – AP calls Pennsylvania for Trump. That all but cinches it for Trump.
1:18 – We're covering this in another live thread, but Pat Toomey managed to hang onto his Senate seat in PA, which officially allows the GOP to retain control of the Senate. Roy Blunt's about to claim victory in Missouri, too.
1:03 – Hillary has gone ahead by 96 votes in NH with 84% of precincts reporting. Kelly Ayotte still leads by 2,000 votes.
1:00 – FiveThirtyEight's Harry Enten thinks PA has gone Trump and the race is over:
Wisconsin is Trump. Pennsylvania will be called for Trump soon enough. Game over.

— (((Harry Enten))) (@ForecasterEnten) November 9, 2016
12:55 – NH got a lot closer …
The race in New Hampshire is only 636 votes apart. https://t.co/W05sW4Bh1m #ElectionNight pic.twitter.com/RRAoCuFeVt

— NPR Politics (@nprpolitics) November 9, 2016
12:50 – Sorry to see Pat McCrory fall behind again in NC as the final precincts report. No one's called it yet, but there's not much chance McCrory can catch up with his 2500-ish deficit and 99.9% of precincts reporting.
12:42 – With over 96% of precincts reporting, Trump has a 23,000-vote lead in PA, and Toomey has a 34,000-vote lead. Get ready for networks to dither on a call, though.
12:07 – CNN now reports that Trump has broken into the lead in PA. And now we'll start our YouTube update.
12:02 – I'm going back on the air on our YouTube channel, so join us now!
11:56 – Narrowing to less than a point in PA now in both races. 80.6% of precincts reporting. At this rate, Michigan will get called ahead of Pennsylvania.
11:40 – It's narrowing up a tiny bit more in PA, with the difference down to 1.3 points in both the presidential and Senate races — which is a little ironic, considering how much Pat Toomey distanced himself from Trump. They're going to wind up in almost the same place anyway.
11:26 – In NH, Republicans are all leading — Trump by two, Ayotte by 2.6, and Chris Sununu in the gubernatorial race by almost five points. Still only 62.7% of precincts reporting.
11:19 – The NY Times now projects a >95% chance that Trump will win with over 300 electoral votes.
11:09 – Pat McCrory is hanging on in the North Carolina gubernatorial race, too, leading by one point with 92.3% of precincts reporting. Republicans could get a clean sweep there. In Pennsylvania, though, both Hillary and Katie McGinty lead by about two points and 81.2% of precincts reporting.
10:59 – Trump is catching up in Pennsylvania as well. It's now a difference of 1.7 points with 77.8% of precincts reporting.
10:52 – Fox, AP call Florida for Trump.
BREAKING: Trump wins Florida. @AP race call at 10:50 p.m. EST. #Election2016 #APracecall pic.twitter.com/bzh1foNMlO

— The Associated Press (@AP) November 9, 2016
10:45 – Fox calls North Carolina for Trump. Looks like a four-point win there.
10:42 – With 50% of the precincts reporting in NH, Trump and Ayotte both have narrow leads of between 2-3 points. That's a bounceback for both.
10:38 – How does the NYT get to its forecast? They have Trump winning PA, NC, FL, WI, and MI.
10:33 – No calls in any of our states (except VA), but Ohio has gotten on the board for Trump. It's looking good enough for Trump that the New York Times is now forecasting an 88% chance that Trump will win the election.
10:06 – PA has 38% of precincts reporting, and Hillary's up 54.4/42.2. However, most of Philadelphia County has already reported, and some counties in Trump country have yet to report at all.
10:03 – Trump's still leading in North Carolina by three points — and Wake's almost entirely in, and 77% of Durham has reported. This looks pretty good for Trump now, but it's not over.
9:58 –  We're back from the YouTube discussion to find that Fox News has called Virginia for Hillary. That was waaay too close of a call based on the pre-election polling. Be prepared for surprises to come.
9:17 – Going on our YouTube channel now — tune in!
9:14 – Adam Smith says it's coming down to … the I-4 Corridor:
I-4 Corridor may deliver FL to Trump. He's doing 4 pts better than Romney in Pasco, 7 bettr in Pinellas, 12 better volusia

— Adam Smith (@adamsmithtimes) November 9, 2016
9:12 – Right now, it's looking verrrry good for Trump in Florida. Hillary's running out of votes to count in Broward.
9:08 – Trump has narrowed the gap a little in Hillsborough Cty, FL — trails by seven points now.
9:07 – Trump goes back into the lead in North Carolina, CNN reports. It's a 700-vote lead, but only 30% of precincts have reported so far.
9:00 – CNN calls New York for Hillary Clinton, not exactly a shocker. But Trump could be in striking distance in Virginia — he's up four points with 76% of precincts reporting. Remember, though, that Northern Virginia counties report last — Ed Gillespie led Mark Warner until the last moments of the race. I'll add Virginia to the watch list here.
8:57 – Gary Johnson's lead on the PA official tally was a Keyser Soze lead — and like that, he's gone. It was an error, apparently. Hillary now leads 49/46 with 3% of precincts reporting.
8:55 – First reports from Pennsylvania shows Gary Johnson in the lead, with 47% of the vote and 1% of precincts reporting. That's apparently from one precinct in Philadelphia.
8:48 – New Hampshire has begun reporting results, and Hillary's up by ten, 52.7/42.7, with 11% of precincts reporting. In Hillsborough, which is the most populous county, Hillary's up by 7.4 points. Hassan has an 11-point lead statewide so far, too.
8:40 – Back to NC, Trump's still trailing in Wake by 20 points, although he's within three points statewide. However, much of the areas still left to report are traditionally Democratic, especially Durham, where polls should be closing shortly. Pat McCrory is trailing by seven points in the gubernatorial race, but Burr's up by 0.2 points. That's almost certain not to last.
8:37 – He's definitely back.
#BREAKING: Charlie Crist wins Florida House seat https://t.co/XR41IbIeai pic.twitter.com/k6MGMAlxaj

— The Hill (@thehill) November 9, 2016
8:27 – I'm not following the Senate races — Jazz and John are covering that — but Deborah Ross's narrow lead so far in North Carolina doesn't reflect well on Trump's ability to come back there.
8:25 – Marco Rubio projected to win Florida by CNN, outperforming Trump statewide.
8:14 – In better news for the GOP, Trump's barely in the lead in Florida with 85% of precincts reporting … by 700 votes. Pinellas — one of the I-4 Corridor — is now giving Trump a slight lead. The panhandle counties have not all reported, either. This could be a good sign for Trump, but Palm Beach has only had 25% of the vote report, and Broward hasn't reported any Election Day votes at all yet.
8:09 – Wake County has two-thirds of precincts reporting, and Hillary's up by about 20 points and up six statewide with 53% of precincts reporting. It's looking like North Carolina is in danger of slipping away.
7:47 – About to go live on our YouTube channel again — tune in!
7:40 – The first precincts coming back plus the early vote in NC look better, though — Trump's up by two points, 49.6/47.2.
7:38 – And in another bellwether county, the early vote in Wake County, North Carolina has Hillary up 63/33 with roughly 325,000 votes counted. The vote total in 2012 was 486,427. Romney lost Wake by 11.
7:34 –  He's baaaaaaaa-aaaaaaaaaack. Maybe, anyway:
With 88 of 241 precincts reporting:@CharlieCrist 53.15%@DavidJollyFL 46.85%

17.3K vote lead.

— Peter Schorsch (@PeterSchorschFL) November 9, 2016
7:31 – Polls closed in Ohio, West Virginia, and in most of North Carolina. Fox called WV already for Trump.
7:18 – Remember when I said that Hillsborough County, Florida was an important bellwether? The early-vote totals released here look brutal for Team Trump, at least thus far:
In Hillsborough County, #Florida. Clinton: 53. Trump: 43. 49 percent in. #tbtvotes pic.twitter.com/ELIZj6L3GK

— Steve Contorno (@scontorno) November 9, 2016
As a reminder, Romney lost Hillsborough by six and McCain lost it by seven. Hillary's up by ten. That's not good news, especially since 2012's vote total was 543,429.
7:14 – On Fox, Team Hillary flack claims that Philadelphia officials are seeing a record turnout in the city and first-ring suburbs. That's not good news for Trump either if it's true, although it's probably not unexpected. That's why they worked Bucks, Berks, Lackawanna, and Luzerne so hard. [edited]
7:11 – More potential bad news from the exits, this time reported by Fox News. This could be because new voters tend to be younger, which would lean hard to Democrats, but Trump also claimed to be turning out so-called "shy voters" too.
Fox News exits: First time voters voted for Clinton 55% over Trump 37%. Yikes.

— Katie Pavlich (@KatiePavlich) November 9, 2016
7:08 – It didn't need to go to court in Durham. This is in response to computer problems in the precincts, apparently:
Breaking: #NorthCarolina elections board extends voting in 8 Durham precincts 20-60mins, Durham is Dem. stronghold w/large minority pop.

— Jim Sciutto (@jimsciutto) November 9, 2016
7:01 – Polls closing in six states, including most of Florida and all of New Hampshire. Vermont's been called for Hillary, and Indiana and Kentucky for Trump, while South Carolina and Georgia are too close to call at the moment.
6:55 – FiveThirtyEight's Claire Malone is reporting some potentially bad news for Team Trump in PA:
In Pennsylvania, 23 percent of voters say they were only contacted by the Clinton campaign, 13 percent only by Trump's, 16 percent by both. That could make the difference tonight.
6:52 – Here is the YouTube embed for our live broadcast in Washington DC. I'll be anchoring the coverage most of the night.
6:30 – I'll be live on Townhall's YouTube channel in a few moments. Be sure to tune in!
6:28 – Preliminary exits show a D+7 electorate. That's not complete data, however, so keep that in mind.
6:21 – CNN reports that Democrats want Durham County polls to remain open — and that's not random. Durham forms part of the Research Triangle, which the GOP could have wooed with a candidate oriented toward younger and college-educated voters. Democrats see a big opportunity to run up the total in a favorable county, and they want to keep the polls open as long as possible to do it.
6:10 – Josh Kraushaar reports that Team Trump is worried about Florida, and Team Hillary's feeling more confident about Florida and Michigan (which AP is following) thanks to late visits from Hillary and Barack Obama. That explains why Obama spent his time there — they were apparently worried about Michigan.
6:07 pm ET: The polls are closing in Indiana and Kentucky, but they may stay open for longer than expected in North Carolina. Activists have gone to court to get a 90-minute extension to polling hours; courts generally are permissive on this point, and might be more inclined after the passage of the state's new voting-security laws. CNN reports that Team Hillary thinks this will be the closest race among all of the swing states, and they're worried about the direction it will take.
Original post follows …
============
Welcome to the jungle, we've got fun and games. The polls will close shortly for the 2016 election, and the East Coast will produce the first results in battleground states in the presidential election. My assignment for this evening will be to follow the developments in four key swing states that total up to sixty-eight Electoral College votes. Let's start off this open thread with a marker on the eventual results, and explain why the race could be won or lost on these four states. Earlier today, Allahpundit offered his prediction of the outcome tonight. Here's mine — a prediction, not a wish, mind you: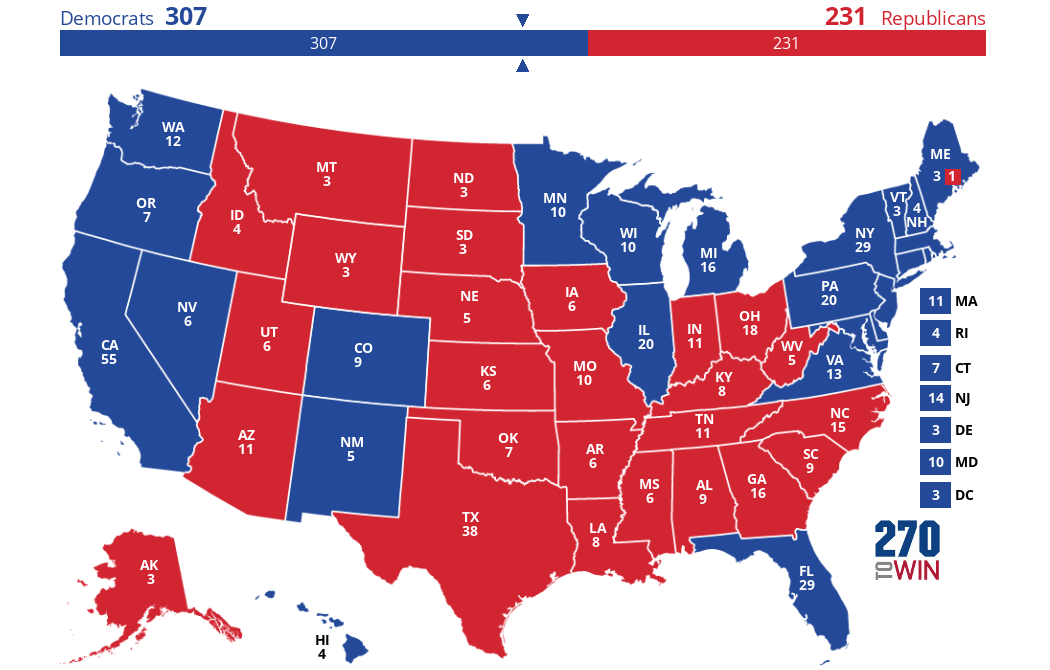 Click the map to create your own at
270toWin.com
Note that this is the rare time in which I take a more pessimistic stance than my longtime colleague here at Hot Air. The early voting numbers in North Carolina look good enough to believe that the state will stay Republican this time around, and hopefully that means another term for Richard Burr, too. But the trend in Florida doesn't look quite as good, and the demographics on the early-vote turnout look dodgy for Republicans, too. Nevada is probably a goner as well, and without any other pickups than Maine's 2nd CD, the outcome will look pretty bleak after the close of the first two time zones. One more point: the early exits show roughly the same demographic model as in 2012 — 70% white, 11% Latino, 12% African-American. That's not great news for Trump, but it's not as bad as some might have predicted earlier too.
Now, if Trump can win Florida, he's only 10 EC votes from the White House. Assuming Pennsylvania doesn't go Republican for the first time since 1988, he'd need to win New Hampshire and Nevada, or else take Wisconsin. At the very least, a Florida win keeps the outcome in doubt until after the Mountain Time zone states all come in.
I'll be updating this post at the top in reverse chronological order, with the most recent at the top. Keep an eye on the headline, which will change a bit as the evening progresses. Starting immediately, I'll help anchor Townhall's live coverage on our YouTube channel, which I'll add to this post once it gets going.