Polls may have shifted in other states, but a major Republican pollster sees little evidence of a shift in Colorado — at least one that favors Donald Trump. Magellan Strategies, a GOP-oriented polling and consultancy, finds the race essentially unchanged between Trump and Hillary Clinton. The only shift has been a predictable drain of support from Gary Johnson, which has marginally benefited Hillary, who now leads by six points:
Our final survey of likely voters in Colorado finds Hillary Clinton leading Donald Trump by 6 points, with 44% supporting Hillary Clinton and 38% supporting Donald Trump, Libertarian candidate Gary Johnson is down to 7%, Green Party candidate Jill Stein has 2% support, 2% support for "some other candidate" and 7% are undecided.

Compared to our last Colorado survey on October 12th, we find that Hillary Clinton's support has increased by 4 points from 40% to 44%, and Donald Trump's support has increased by 3 points from 35% to 38%. Gary Johnson's support has declined by 5-points and Jill Stein's support has declined 3 points. We believe that Hillary Clinton is the beneficiary of the declines in support for the Libertarian and Green Party candidates, although she may have lost some support to Donald Trump, especially among voters 65 and older.
Magellan notes that this looks similar to the outcome in Colorado four years ago, when Barack Obama beat Mitt Romney by five. However, the turnout model looks different; in 2012, it was 34/29/37 for a D+5, but Magellan's sample is 35/34/30 for a D+1. That matters in a couple of ways, too. A potential oversample of Republicans could create an overly optimistic estimate for Trump, but an undersample of independents can do the same thing in Colorado, as Hillary leads by ten points in that demo .39/29.
Otherwise, the rest of the demos look about how one would expect. Hillary has a 12-point advantage in the overall gender gap, greater than Obama's +8. Hillary beats Trump among women by 17 points, and even with married women by eight points. She's killing Trump among Hispanics by 53 points, 69.6/16.1, although the sample of Hispanic voters is necessarily small in this 500-LV poll and too much so for reliable reporting. Most Coloradans have already voted; among those who have, Hillary leads by six, and among the rest she leads by slightly more than seven.
Ironically, this depressing report from a GOP-oriented pollster is the worst for Trump over the past week. RCP has Hillary up in its aggregate average by 2.8 points, including this poll, down from a nine-point advantage three weeks ago.  It's also the smallest sample size in the aggregation since an early-October Monmouth poll of 400 LVs put Hillary up eleven points. Nonetheless, the overall trend shows the race closing a bit, but with Hillary still leading and stronger in the fundamentals. FiveThirtyEight shows Hillary with a 75.3% chance of winning Colorado, a margin that has only shifted slightly downward since mid-October.
The good news — or maybe the not-so-bad news — is that Trump can win without Colorado. Let's take a look at this map for a demonstration: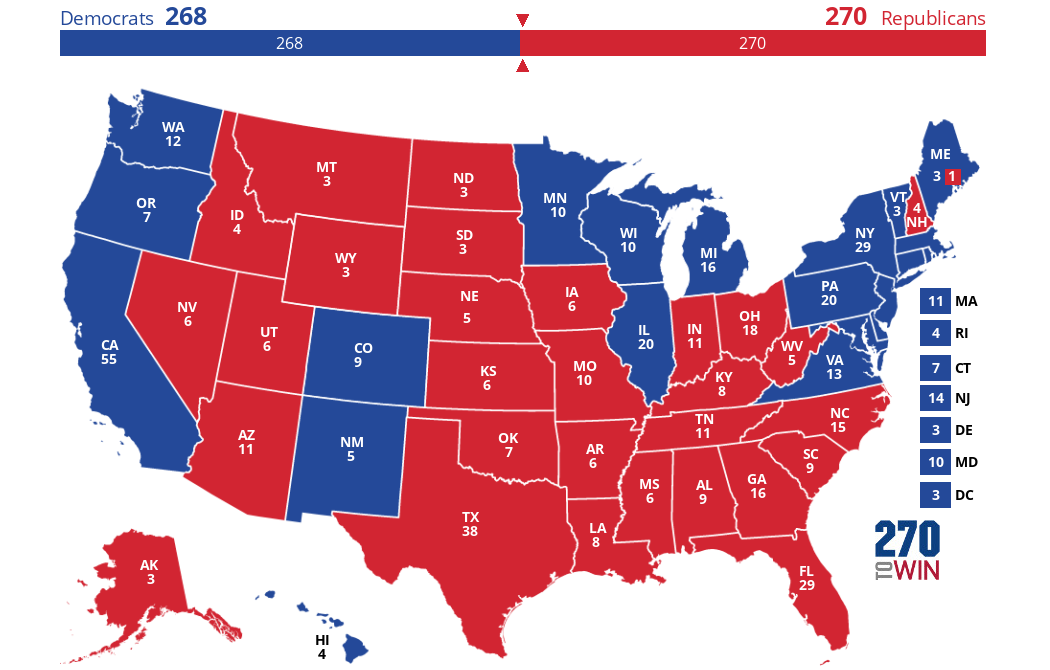 Click the map to create your own at
270toWin.com
First off, this assumes Trump can pull off a win in Florida, North Carolina, and Ohio, but without those there isn't any sense gaming out scenarios. (Nate Silver shows Florida and North Carolina all but toss-ups, and Ohio leaning to Trump.)  Trump can still hit 270 with other wins in Iowa (leaning Trump), New Hampshire, the second CD in Maine, and Nevada, no matter what happens in Colorado. Needless to say, this assumes a lot of good fortune for Trump on Tuesday, and it would be obviously better to have won Colorado to backstop this path.
The reality, though, is that Colorado was a winnable state for Republicans in 2016, as I wrote in my book Going Red. Leaving this on the board for Democrats makes it even more difficult to rebuild the GOP's standing among voters. That matters far beyond Tuesday.