Has the Donald Trump comeback begun, or have we just picked up on motion within the margin of error? Two new polls out this morning in key swing states suggest that the Republican nominee has picked up some momentum, even if the new entries look more like outliers at the moment. The most stunning reversal comes from Hampton University in Virginia, whose polling put Hillary Clinton ahead by 12 points just four weeks ago. Now they find Trump leading by three:
The latest Hampton University Center for Public Policy (CPP) poll reveals that the FBI's decision to reopen the Hillary Clinton email investigation may have triggered a boost for Donald Trump with likely voters in Virginia.

Democratic Presidential nominee Clinton had a two point lead before the email news story broke on Friday Oct. 28. She is now trailing three points behind Republican Presidential nominee Trump.

With only six days left before the November Presidential election, Trump has jumped ahead of Clinton, erasing a 12 point deficit reported by the CPP in early October.  This surge for Trump demonstrates again how erratic the run for the White House has been as we head into the final days of Decision 2016. This is the first time Clinton has trailed in the CPP polls this year, the latest poll was conducted Oct. 26-30.

When Virginians were asked if the election were held today, 44 percent of those surveyed would vote for Trump and 41 percent would choose Clinton, while a high percentage of voters remain undecided (15 percent). This is a major shift from just one month ago when Clinton led Trump by 12 points. (CPP poll, October 2016 – Clinton 46 percent , Trump 34 percent).
A quick check of the RCP aggregation for Virginia shows the race tightening. Hillary had a 10.8-point lead two weeks ago; now it's down to 3.4 points and dropping. Five poll series in the past week have all shifted in Trump's direction.
However, there are a few caveats on Hampton's poll. First, it has a relatively large margin of error (4.57% on 802 likely voters), which means that this result qualifies more as a virtual tie than a lead. Second, it's the only poll of the five taken in the last week of October to show Trump in the lead; the other four average out to Hillary +5. All five were in the field in the three days when the Comey letter hit the headlines, but none of them found a Trump lead, not even Remington, a Republican polling firm. Third, this is literally the only poll in the RCP aggregation to show a Trump lead in Virginia, going all the way back to July 2015. If this is for real, we'd see it in subsequent polls — but with only four days left before Election Day, we may not get too many for comparison.
On the other hand, we have some movement in New Hampshire too. The new WBUR/MassINC poll released this morning shows Trump leading by one point in the four-way race (40/39) and by two head-to-head (44/42). It also has Kelly Ayotte ahead by six points over Maggie Hassan:
A new WBUR poll of likely voters in New Hampshire finds that Republican Donald Trump and Democrat Hillary Clinton are now in a dead heat with just five days to go before Election Day.

The survey also finds Republican Sen. Kelly Ayotte leading her Democratic challenger, Gov. Maggie Hassan, by 6 points in one of the key races that could determine which party will control the U.S. Senate. …

In the last WBUR poll — just three weeks ago — Clinton led Trump by 3 percentage points in New Hampshire. This new poll (topline, crosstabs) now shows Trump in front, with a razor thin 1-point lead, well within the 4.4 percentage point margin of error.
Again, this is the first poll to show a Trump lead in RCP's aggregation for New Hampshire since the beginning of the race. This race has also tightened in other polling series, but not enough to put Trump ahead. The WMUR poll released earlier this week shows him cutting Hillary's lead in half  from two weeks earlier, clearly the result of the recent controversy, but that still had her ahead by seven points. Emerson shows a five-point shift to Trump, but still has Hillary ahead by three. For that matter, the WBUR only shows a four-point shift to Trump from its previous iteration — and that's within the margin of error.
Even if Trump has turned a corner in both states, the Electoral College path looks very tricky. He'll have to win Florida (in any path to the White House) and carry North Carolina, where momentum appears to have shifted his way. If Trump can keep Utah and all the other Romney states, plus win the one EC vote in Maine that appears to be going his way, this is what the map might produce: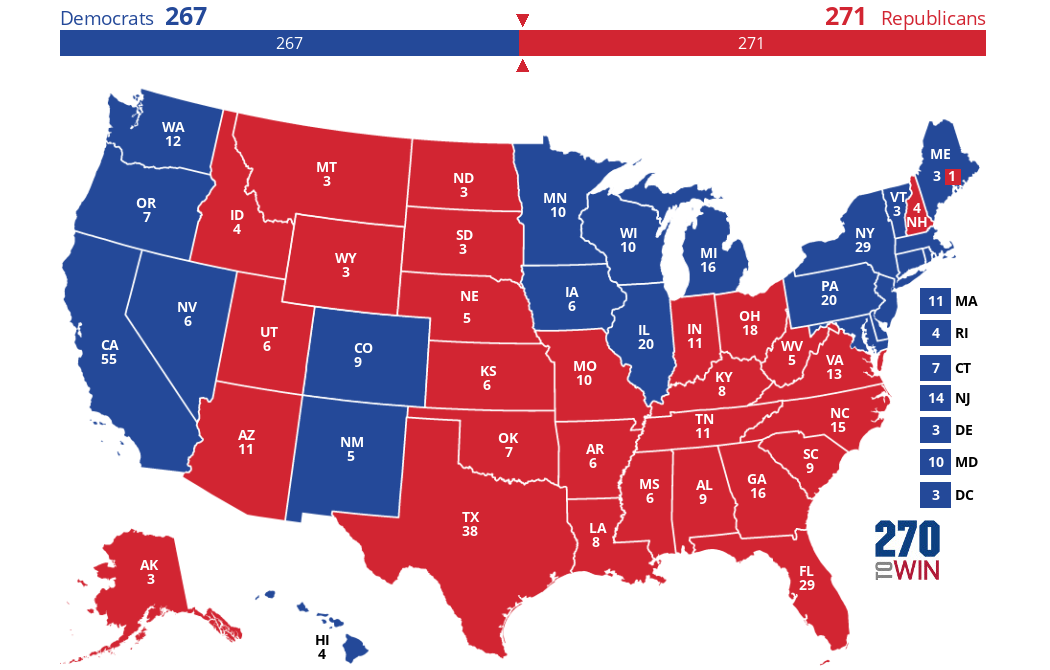 Click the map to create your own at
270toWin.com
Without these two states, however, Trump's path to the White House looks to fall short, barring some miraculous outcome in Pennsylvania or Michigan. So far we haven't even seen one poll suggesting a miracle brewing in either state.
Update: I'm reminded on Twitter that Trump has now taken leads in Iowa and Nevada in the RCP aggregation, so the map should look like this: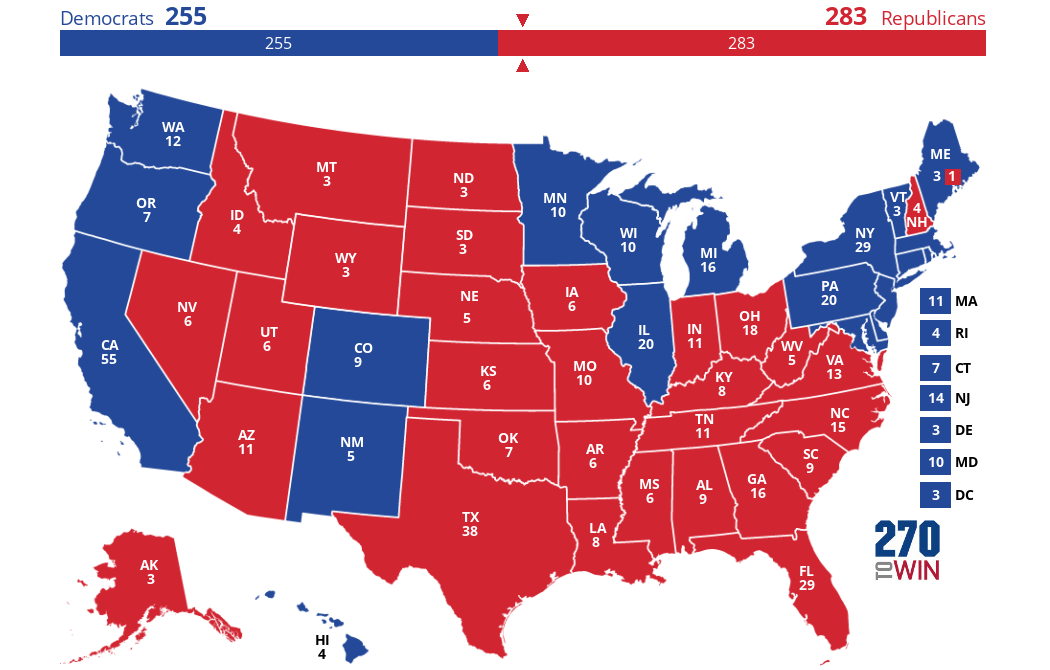 Click the map to create your own at
270toWin.com
Fixed, but still note that this depends on winning in Florida, Virginia, and New Hampshire — and Trump trails in the RCP average in the latter two. That gives him 266 EC votes, and a narrow loss, if he can't flip them.