DailyKos diarist: Wait, Obamacare is hurting students at my Ivy League school
posted at 11:22 am on November 21, 2013 by Guy Benson
This guy is no conservative.  Obviously.  Blindly following political slogans that turn out to be false really sucks — doesn't it, Mike?
Liberal blogger and representative on the health care committee at the University of Pennsylvania (UPenn), turned to the liberal blog The Daily Kos, on Monday to decry the negative impact he says President Barack Obama's signature health care law is having on grad students at his Ivy League school.   "For us, at least in the college health insurance market, the ACA has truly been the 'law of unintended consequences,' wrote Micheal Convente on The Daily Kos,  on Monday.  "[R]elying on marketing slogans, some of which turned out not to be so correct, is turning out to be problematic," he lamented.  Convente said the "progressive" UPenn Student Health Insurance Advisory Committee (SHIAC), on which he serves, doesn't mind funding artificial limbs or even gender reassignment surgery, but that forcing poor college students to pay for health care for children, which most don't use, is becoming a burden.
Being an incurable ideologue, Convente insists that he still supports the law, even though it's doing real harm to the people around him.  Good stuff.  What's extra tasty about his sad-face post is that it's attached to another DailyKos diary entry entitled, "Confessions of an Obamacare advocate with cancelled policy, facing 38 percent premium hike."  Which is not to be confused with a separate ferocious DailyKos rant authored by an embittered Obamacare fan back in September ("what the hell kind of reform is this?")  Since we're on the subjects of dumped coverage and sticker shock, it had been awhile since I'd checked in on MyCancellation.com — but a Florida family's plight caught my attention on Twitter just yesterday.  Thanks, Obamacare: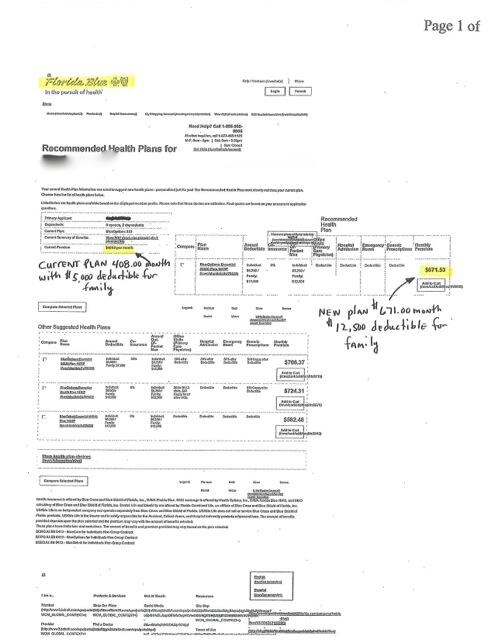 If you can't read the fine print, I'll translate:  This household's existing health plan featured a $5,000 deductible with monthly premiums of $408.  That coverage has now been cancelled, thanks to the so-called Affordable Care Act.  The new "deal:" $671 per month in premiums with a deductible of $12,500.  And before you cry "anecdote," do note that the list goes on and on.  And it's going to get worse.
Recently in the Green Room: