Wanted: The Beer Gut Bandit
posted at 5:06 pm on July 24, 2013 by Katie Pavlich
The FBI is looking for a guy they've dubbed the "Beer Gut Bandit" in Southern California. He's described as a white dude with a goatee beard and a mustache. He's been carrying around a green recycle tote bag to stash cash in after allegedly robbing four different banks. His t-shirt looks like it hasn't been washed in months and apparently the FBI thinks this guy is spending a lot of the stolen money on beer (just kidding, I'm not sure why they named him that, but the photo below helps to explain). Here's what happened at one of the banks last Saturday:
On Saturday, July 20, 2013, at approximately 11:57 a.m., the Wells Fargo Bank located at 1235 Avocado Avenue, El Cajon, California, was robbed by an unknown male now dubbed the "Beer Gut Bandit." At the time of the robbery, the robber entered the bank and paused at an island counter in the bank lobby. The robber then approached the victim teller and presented a demand note for cash. The demand note threatened the robber was armed with a bomb and demanded specific denominations. After receiving a sum of money, the robber exited the bank. No injuries were reported.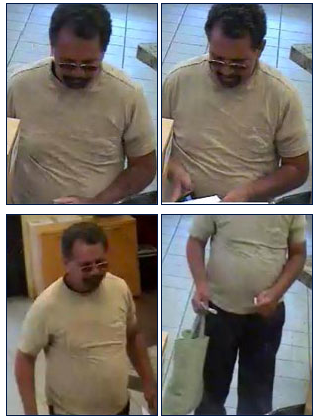 If you live in Southern California, watch out! If you're interested, the FBI has more photos of this guy in different shirts here.
Recently in the Green Room: