PolitiFact: Yes, more people murdered with knives, body parts and blunt objects than rifles in 2011
posted at 3:41 pm on January 18, 2013 by Katie Pavlich
This infographic is floating around Facebook.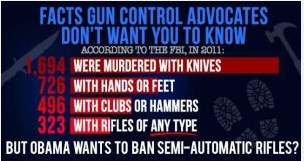 And according to PolitiFact (and the FBI) it's true.
Our ruling

The post uses data selectively, ignoring the significant role of handguns in gun violence. But the statistics it mentions are solid. FBI data backs up the Facebook post's claim that in 2011, more people were murdered with knives, "hands or feet" or "clubs and hammers" than with any type of rifle. We rate the statement True.
You can read the whole assessment here.
Recently in the Green Room: