First couple celebrates wedding anniversary with dinner out (at somewhere other than Target)
posted at 12:28 pm on October 2, 2011 by Howard Portnoy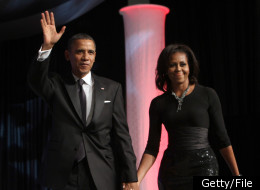 The Obamas celebrated their wedding anniversary on Saturday (h/t White House Dossier). I'm not sure which anniversary this was, but pictures of a smiling First Couple suggest that the 2010 story that they were experiencing marital woes was just idle gossip. In any case let me wish the president and Mrs. Obama a heartfelt mazel tov!
Now on to business. It is not at all clear whether the smart black number the First Lady can be seen wearing in the accompanying photo was acquired during her much-publicized shopping spree at Target the day before. Suffice it to say that the Obamas did not celebrate the event at the Pizza Hut Express in the store where Michelle was coincidentally captured on video pushing a red cart.
Instead, they dined at Restaurant Eve, in Alexandria, Virginia, where à la carte appetizers average $17 and main courses $38. Desserts are $12. There is no telling whether the Obamas opted for one of the "tasting room menus," which run from $120 to $150 (add in another $45 if you elect to start with Black River Osetra caviar with steamed goose egg custard and Maine lobster).
So do I begrudge the happy couple their fancy evening out? Of course not. Will their extravagance make any impression on the Occupy Wall Street protesters, who have joined the president in his class warfare on corporate fat cats? Highly doubtful. Does it send a wrong message to those the president is asking to continue making sacrifices and make him look two-faced? One can only hope so.
Related Articles
Follow me on Twitter or join me at Facebook. You can reach me at [email protected] or by posting a comment below.
Recently in the Green Room: